Exploring the Shambhala | When it comes to home décor, we want things to look good, and be stylish. We need it to be functional, and allow us to live in the way we want to. Home design and architecture is a funny one, straddling the art and science divide. Is design a creative type of drawing, or deliberate mathematics? Should attention be paid to practicalities or aesthetics? Which are more important to the end user? Does it matter what people do in a space, or how it makes them feel? And can Feng Shui have anything to do with it?
All these are questions that designers and architects ask themselves, and people's lifestyles and expectations make a big difference to the surroundings that work for them. But those surroundings can also influence the lifestyle.
Where else to understand this complicated confluence than Byron Bay, that iconic utopia on the east coast of Australia, where sand meets sea meets surf meets spiritual. Byron was known by the Aboriginals as a place for healing and is renowned for moving people often in quite intense ways, and this is something that owner and architect Joanna sought to harness.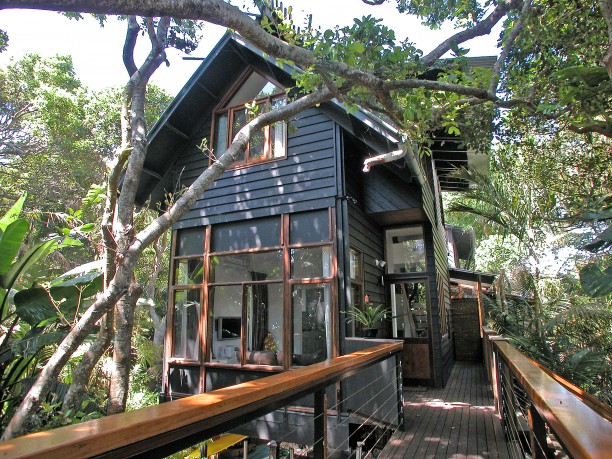 A small resort (four cottages and rooms, each self-contained, in a tree lined paradise on Belongil beach, west of the main town, and a 15 minute walk along soft chrome sand to the door) Shambhala is something of haven and an example of how art and design truly does influence wellbeing and emotion. Joanna's 'interest in all elements of design, from the 'esoteric' to the practical' is evident, and her eye as an architect and designer has been a driver, her experience as a holiday maker, mother and individual, and a spiritual grounding is evident. She has not always used Feng Shui, but says that the 'developing interest has helped to give me a lens to apply what was always an intuitive feeling in my design work. '
If it all sounds a bit wishy washy, it's worth considering what the core of feng shui is. Using and working with space and energy to allow its inhabitants and the place they inhabit to flourish. A home, hotel or workplace should enhance life, not threaten it, and so the right layout gives people the best support and control. So the focus is the importance of creating a building which is appropriate to the site on which it is based – building upon good foundations, something all architects are subscribers too. Or working with the natural rhythms of sunrise and sunset allows the enhancement of the sun's light and warmth, reducing the reliance upon artificial energy. Ventilation is crucial in feng shui, the natural flow of air viewed as ideal, and in the West breathing tends to be viewed as valuable too. It's startling, but staying at Shambhala, you do seem to breathe better. I left feeling just a little bit clearer.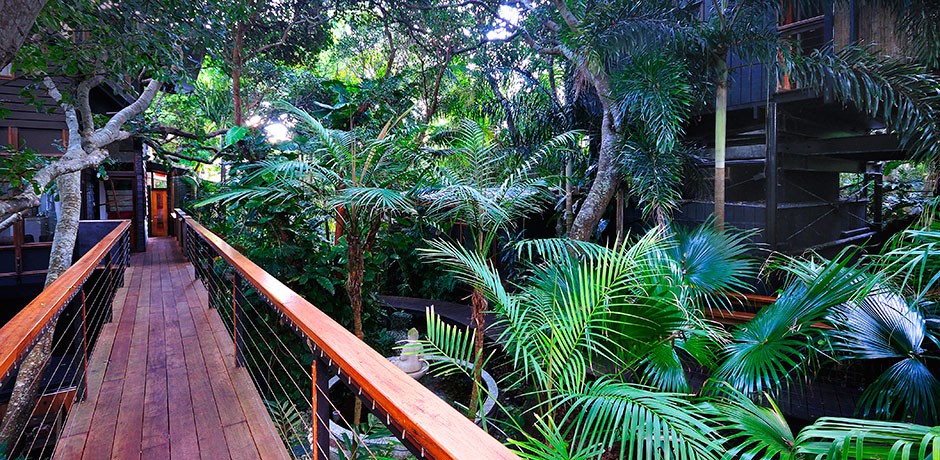 Timber staircases connect the inside to the outside, the upstairs to the downstairs, in wonderfully natural linkage of changing textures and scenes that enhance creativity. It's seamless; outdoors becomes indoors, and as you wander barefoot, padding the wood, feeling the environment, you see and flow through it all. Literally treehouses, as in houses in the trees rather than built of, leaves and foliage clamber around, the whisper and rustle in the leaves in harmony with the ocean only metres away. A private gate to the beach leads you on to the stretch of sand that leads east towards Byron and right towards the National Park. Stones line the walkways, water trickles through, and sweeping metal curves guide without being glaring. Buddhist statues, rose quartz and amethyst guide the way, lit at night and infusing with the scent of incense. Elevated boardwalks lead you from one part to another, each able to exist uniquely and being a retreat in itself, but also working harmoniously. Metals, stones, water and wood all combined. Within the accommodation the décor is minimal, purposely designed so that there is little to distract a visitor from the simplicity of space and the views beyond. It's light and airy, a pleasant place to be in.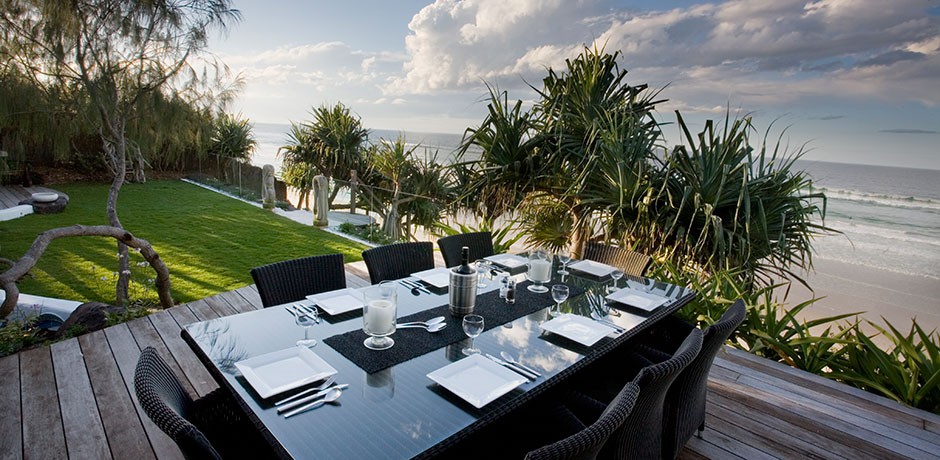 And if it all sounds a bit wishy washy, it also sounds (and looks) beautiful. Elegant, stylish, natural and comfortable. A place to enjoy being and to function well within. Although dealing with aesthetics, most designers know that their output directly impacts the interior life. And so feng shui should not be too much of a stretch, even if it does have mystical connotations. So should more hotels start to employ these principles? There has certainly been an increase in eastern spiritual ideas meeting western ways of life, watered down, but effective. It seems that if a situation and surroundings make the user more satisfied and productive, if the architecture is inspiring to the human – if the bricks make the people better – it's a concept worth exploring.
How does your home make you feel?
Francesca Baker is a writer curious about the world and all she finds in it. Partial to music, reading, culture, walking, cycling, travel, wine, off kilter events, smiling, and life, you can read her musings www.andsoshethinks.co.uk at and follow her on https://twitter.com/andsoshethinks
Tags: Shambhala Byron Bay, Francesca Baker, Tuft and Buttons, Feng Shui